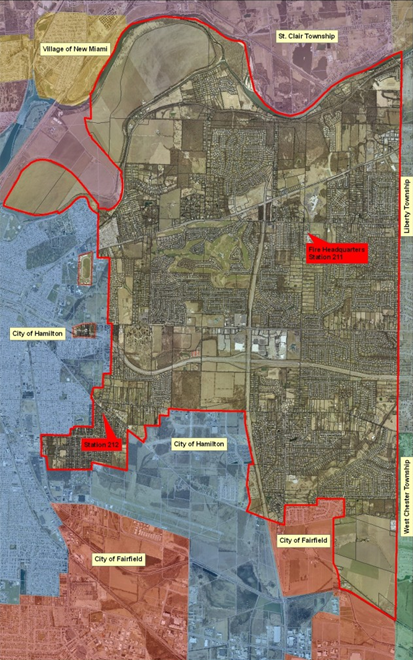 Fairfield Township, a community of approximately 22,000 residents, is located 20 miles north of Cincinnati, Ohio, in Butler County, occupying approximately 17.7 square miles.
Fairfield Township is primarily residential with a rapidly growing commercial district and light industrial structures.
Our main focus is fire suppression, emergency medical service, rescue, fire prevention, and public safety education.
Our borders are split up several different ways. In 1954, the south portion of Fairfield Township voted to become a City. That city is now the City of Fairfield. The northern portion of Fairfield Township voted to stay a township. However, during the incorportion the southern most portion of Fairfield Township decided to stay a township. Those areas are from 6131 East River Rd all the way to the Hamilton County Border. This covers Georgetown Road and all addresses ending in an odd number. The City of Fairfield Fire Department Covers that area with a common automatic aid agreement.
Fairfield Township also has property off of State Rt 128.  This area covers Watson Gravel.  Ross Township Fire Department covers this area with a common automatic mutual aid agreement.
Fairfield Township is bordered by: